Are you searching for dentures in Kenosha? SPS Dental has the services for you. We have a team of well-trained technicians who can offer quality dentures and examinations.
We understand that a dental visit can be a stressful event, which is why we aim to create a calm, and welcoming atmosphere when you walk through our doors. Contact us today to schedule an appointment at SPS Dental when looking or if you have any questions about dentures in Kenosha.
Kenosha's Top Choice Dental Services
Since 1972, SPS Dental has provided exceptional oral hygiene services to the Kenosha area. We have the most qualified oral hygiene services in the Kenosha area. In addition to the denture services we also offer all of our other oral health services.
Our team is led by Drs. Santarelli, Perri, and Santarelli, work to give you the best dental services you could ask for.  You are guaranteed a fresh, clean smile when you trust your oral health to your dental family at SPS Dental. Do not hesitate to call for an appointment or any questions you may have!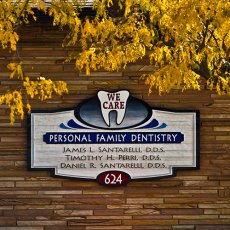 Along with Drs. Santarelli, Perri, and Santarelli, our clinic houses a staff of two hygienists, five assistants, two receptionists, and one financial/office manager. Our professional team is ready to help you every step of the way at your appointments.
At SPS Dental, Kenosha's dental clinic, we are committed to providing a relaxing environment as we provide you with exceptional dental services. Contact us today to set your appointment at the dental clinic for your dentures in Kenosha.
SPS Dental has provided exceptional dental care services in Kenosha since 1972.