At SPS Dental, we take pride in providing exceptional dental care for children in Kenosha and enjoy being your local Kenosha kids dentist. Our team of experienced and compassionate professionals has been voted the "Best of Kenosha County" several times, and we have been serving families in the area since 1972. As a leading Kenosha kids dentist, we offer a range of services, including regular check-ups, teeth cleaning, and braces procedures, all in one convenient location.
At SPS Dental, we understand that visiting the dentist can be a stressful experience for children. That's why we create a welcoming and comforting environment to help put our patients at ease. Our team of experts is dedicated to teaching children healthy oral habits that they can use throughout their lives. With our commitment to providing the best care possible, you can trust that your child's dental health is in good hands at SPS Dental.
Your Trusted Kenosha Kids Dentist
SPS Dental is conveniently located just blocks away from Lake Michigan, right off 75th Street, making it easily accessible from anywhere in Kenosha. With over 40 years of experience in providing dental care for young patients, we are confident in our ability to create a comfortable and welcoming environment that ensures your child is at ease during their visit. As a child, visiting the dentist can be one of the most anxiety-inducing experiences, but we take pride in making the appointment a comfortable experience for your child so they are never afraid of their future dental appointments. That's why we are the #1 rated Kenosha kids dentist.
Our resident family Drs. Santarelli, Perri, and Santarelli also provide adults with exceptional cosmetic and restorative dentistry alongside routine cleanings and check-ups. Individual crowns, bridges, and veneers are a few of the cosmetic procedures we service along with tooth-colored fillings and teeth whitening. Dentures and partials are also available all in SPS Dental. So next time your children are in for an appointment a Kenosha kids dentist, be sure to schedule an appointment for yourself.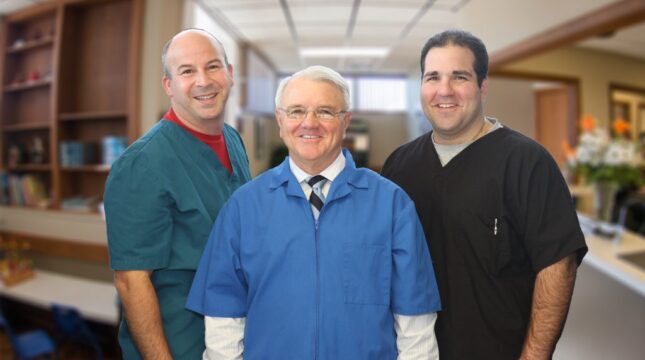 Alongside our three family dentists, we have a remarkable and experienced staff including four hygienists and several assistants to better serve you. We are all committed to providing you with the personal attention you deserve, so each visit to our office is a calming experience.  No need to worry and be nervous – we will help put you and your child at ease. We are here to help with all your kid's dental needs in the Kenosha area!
Contact us today to set your appointment to see a Kenosha kids dentist.